Winter Melon Tea? Recipe & Health Benefits of This Winter Tea!
Winter offers several health benefits. As a result, people are exploring ways to enclose winter melon tea in their daily diet.
If you want to know the taste of winter melon, let me tell you, it doesn't taste that bad. It gives you a flavor of cucumber. However, when it gets mixed with other ingredients, you can not say no to it.
Nevertheless, winter melon (see below image of wintermelon) taste is a topic for another discussion. Today, let's disclose everything about wintermelon tea. If you are a tea lover and want to experience other flavors of teas around the world, there are extremely rare chances that you will say no to winter melon tea. Plus, it offers considerable health benefits.
Sounds illogical? Don't be!
Unknown Facts About Winter Melon Tea & WinterMelon Tea Syrup
This syrup is made of three magical ingredients, which you can find in your home kitchen, are wintermelon, brown sugar, and rock sugar. Although you can serve winter melon tea as a refreshing drink in summer(Alternative).
The logic behind this, it is served chilled, so it is a favored drink during hot weather.
You can prepare many appetizing items using winter melon, like winter melon soup, etc.
Southeast and east asian countries frequently drink wintermelon tea as it has a central origin here. If you have ever been to Malaysia, Indonesia, Singapore, or Taiwan, you should have seen these countries' people drink this healthy tea with fervor.
What is Winter Melon Tea?
If you ever hear winter melon punch, white gourd drink, or ash gourd juice, don't be perplexed, these all are synonyms of wintermelon tea. The synonym you hear depends upon the country, city you visit. Malaysians and indonesians called it tech kundur.
So, let me tell you what winter melon tea is? Winter lemon tea is a chinese tea prepared from the winter melon's flesh by adding brown sugar and rock sugar.
Many people from the US find it difficult to get winter melon tea.  However, if you go to the Asian markets in the US, you will easily find winter melons. Also, this market sells ready-made options for these mouth-watering teas available in gallon size jugs.
For your convenience, you can also choose canned and boxed drink versions. Just dissolve them into the hot water, and your tea is ready. But keep the note of quantity.
How to Prepare Winter Melon Tea at Home
Well, it is tea, but it does not require tea leaves. Surprised? Let me surprise you more!
Here are three ingredients that are mainly used in it:
Winter melon is also known as a wax gourd, ash gourd, and white gourd
Brown sugar (as it is a chinese tea, so traditionally, you should use the chinese brown sugar blocks) But, you can go with regular or dark brown sugar.
Rock sugar
With the help of these three ingredients, one can create fresh winter melon tea. However, my winter melon tea recipe is quite different.
Firstly, I create the winter melon syrup, and from that, I prepare the wintermelon tea. So, let's check out the winter melon syrup recipe and how you can form the winter melon tea from it.
Required Ingredients
1.5-kilogram winter melon meat, cut them as cubes, 1 inch each
250-gram brown sugar
50-gram rock sugar
Overall Recipe Time
Preparation time – 15 mins
Cuisine time – 2 hours, 15 mins
Total time is taken – 2 hours, 30 mins
(Note: Quantity – 8 people)
Delicious Wintermelon Tea Steps!
Step 1: Take a pot, melt wintermelon with brown sugar. Hold this aside for 1 hour. After 1 hour, you will notice that some liquid has formed.
Step 2: Now, put rock sugar and mix it. Take the pot and put it on the stove, turn on the heat, and let it boil. Once it simmers, slow down the heat and let it boil gently. Cover the pot while it is boiling gently. Cook till the time winter melon becomes transparent. Usually, it takes 2 hours.
Step 3: Finally, turn the heat off. Strain the pot content till it gets completely empty. The strained liquid you will get is your winter melon syrup.
Store this winter melon syrup in a glass jar; it lasts for one week. You might be asking how to make winter melon tea from it? So, whenever you want to drink winter melon tea, mix 1 part syrup into the 3 parts water, and your flavorful tea is ready. For chilled winter melon tea, you can add ice cubes to it, especially during hot weather. It is a no better feeling than being an empyrean.
What is Winter Melon Milk Tea?
Undoubtedly, wintermelon milk tea is just like a typical milk tea, or we can say half similar to winter melon tea, but with a unique twist. It has a tremendous fanbase of western boba lovers. Moreover, winter melon is a dominant Asian medicinal ingredient. Apart from this, you can prepare delicious recipes from it.
As you have seen, winter melon tea does not include tea leaves. Similarly, winter melon milk tea does not contain tea leaves. Instead, it is made of winter melon itself, similar to winter melon tea. Believe me, it tastes amazing!
The origin of the wintermelon milk tea lies in Taiwan. However, its smell is not limited to Taiwan. It is slowly crossing the border of other countries and becoming a part of other countries' culture, especially boba enthusiasts spreading the aroma of the winter melon milk tea all around the world.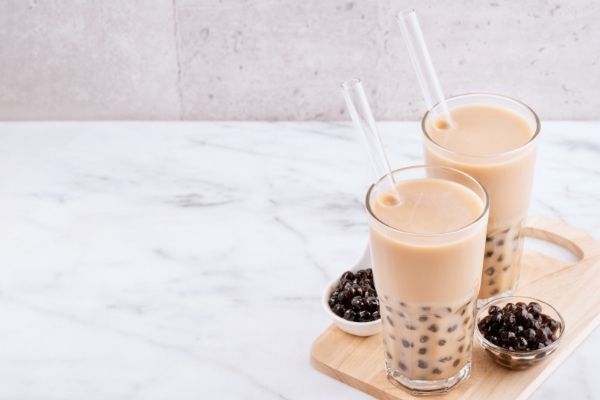 How To Make Wintermelon Milk Tea?
Being a tea aficionado, you can not fade away from the fragrance of the winter melon milk tea. Having a caramel-rich flavored tea gives you a cooling effect in the hot summer. It does not only provide energy to the body but also gives boosts to the brain. The better advantage of this is you can either have it warm or chill.
Wintermelon Milk Tea Recipe
The recipe is similar to winter melon tea, as described earlier in this article. However, for making milk tea, you have to add a few extra ingredients. So, by following the above steps, you can make the winter melon tea. And by adding below extra steps, you can have your wintermelon milk tea.
So, let's talk about extra ingredients you will require for making wintermelon milk tea:
1.5 tablespoon fresh milk or creamer
1 tablespoon jasmine tea leaves
1.5 tablespoons winter melon syrup as prepared
1 tablespoon sugar or agave or fructose syrup
Ice cubes (as needed)
Wintermelon Milk Tea Preparation
Step 1 – Take 200 ml water, boil it. While boiling the water, add 1 teaspoon of jasmine tea leaves and leave it for 3 to 5 minutes. Now, add sugar and let it cool.
Step 2 – Now, take the tea and syrup (as prepared) in a glass, along with ice cubes (if you like it chilled), and combine it with 1 to 2 tablespoons of milk. Your wintermelon milk tea is prepared.
Does Milk Tea Have Caffeine?
99% of people live on tea and coffee. However, drinking tea and coffee too often has many cons. But, here, you can guilt-free drink the winter melon milk tea as it does not contain any type of caffeine. You can even have it at your bedtime without worrying about its side effects on your sleep.
Moreover, it has a positive impact on your health because winter melon is a source of multivitamins. It is a powerhouse of Vitamin C, Vitamin B2, and Potassium. As a result, it increases your immunity and keeps your blood sugar normal. However, don't use an overdose of sugars.
Benefits of Drinking Ash Gourd Tea
Improve Digestion
Ash Gourd (also known as wax gourd) carries low calories, high water intake, and is a good source of fiber. As a result, it helps you in digestion and is beneficial for weight loss.
According to research, due to low calorie and high water content, winter melon helps you maintain a healthy weight. This is because wax gourd contains soluble fiber that creates a gel-like substance in your intestine that gives a feeling of fullness and slows down digestion.
Reduces the Risk of Eye Disorders
The root cause of eye disorders is a deficiency of riboflavin (also known as Vitamin B2). However, when it comes to winter melon, it has a large amount of Vitamin B2. By taking it regularly, you can bypass or ameliorate the risk of eye disorders. Further, it has other antioxidants, so it lessens the retina's oxidative stress and macular deterioration. Overall, it helps to improve eye vision.
Works Best for Heart Patients
Inside the wax gourd, there is an abundance containing potassium and Vitamin C. As per the research, winter melon protects the well-being of the cardiovascular. Potassium plays the role of a vasodilator, as a result, it lowers the blood pressure in the blood vessels and veins. So, present potassium in the winter melon lowers the chances of coronary heart disease. Further, Vitamin C protects you from a heart stroke.
Protects from Free Radicals
It works as an antioxidant. Present Vitamin C protects the human body from free radicals and toxic pollutants. Usually, free radicals develop in three ways: 1) after food digestion, 2) smoking or consuming tobacco, and 3) destructive radiation. As a result, a person can suffer from a heart ailment, cancer, and arthritis.
Improves Immunity
Having excellent immunity eliminates the risk of several diseases and protects your body from harmful germs. In a pandemic, you must have seen that nothing happened to those who had a good immune system. So, having an ash gourd improves your resistance as it contains Vitamin C and Zinc, as both are known to be great immunity boosters.
Cure Migraines
Migraine seems like a small illness, but people who go through it know what an awful disease it is! However, winter melon can fix this disease within a short period as it contains Vitamin B2. As per the research, it is found that Vitamin B2 is beneficial in reducing the symptoms of migraines.
Improve Brain Function
For healthy and proper blood circulation, the most vital element in the body is iron. Iron is responsible for the proper growth of the RBCs, as they improve the circulation of blood and distribute healthy oxygenated blood to the brain. Therefore, it increases brain capacity, memory, and attention.
Wrapping Line
Now, let me know which one you have tried; winter melon tea or winter melon milk tea? My personal favorite is winter melon tea. Well, everyone has different tastes. Overall, consuming winter melon tea only gives you health benefits. You do not have reasons to say no to it! Try it once, and you will be drowned in its flavors.