How To Make Homemade Steak Seasoning Within 10 Minutes?
Steak seasoning is a must have ingredient for all meat lovers. Meat in itself is nice, but with seasoning, it tastes even better. Steak seasoning is made to complement the flavor of the meat as opposed to empowering it.
As such, making your own steak seasoning at home gives you the unique chance to control the taste of your steak. While different people have varying tastes, salt, pepper, garlic, onion powder, paprika, and herbs are some of the most common ingredients in steak seasonings.
Readymade Steak Seasoning
Montreal Steak Seasoning
With 6 ingredients and a few easy steps, you can be ready to ditch your store-purchased Montreal steak seasoning and start making your own in the comfort of your own home. Montreal steak seasoning is great for giving your grilled meat, burger, and oven roasted vegetables the perfect taste.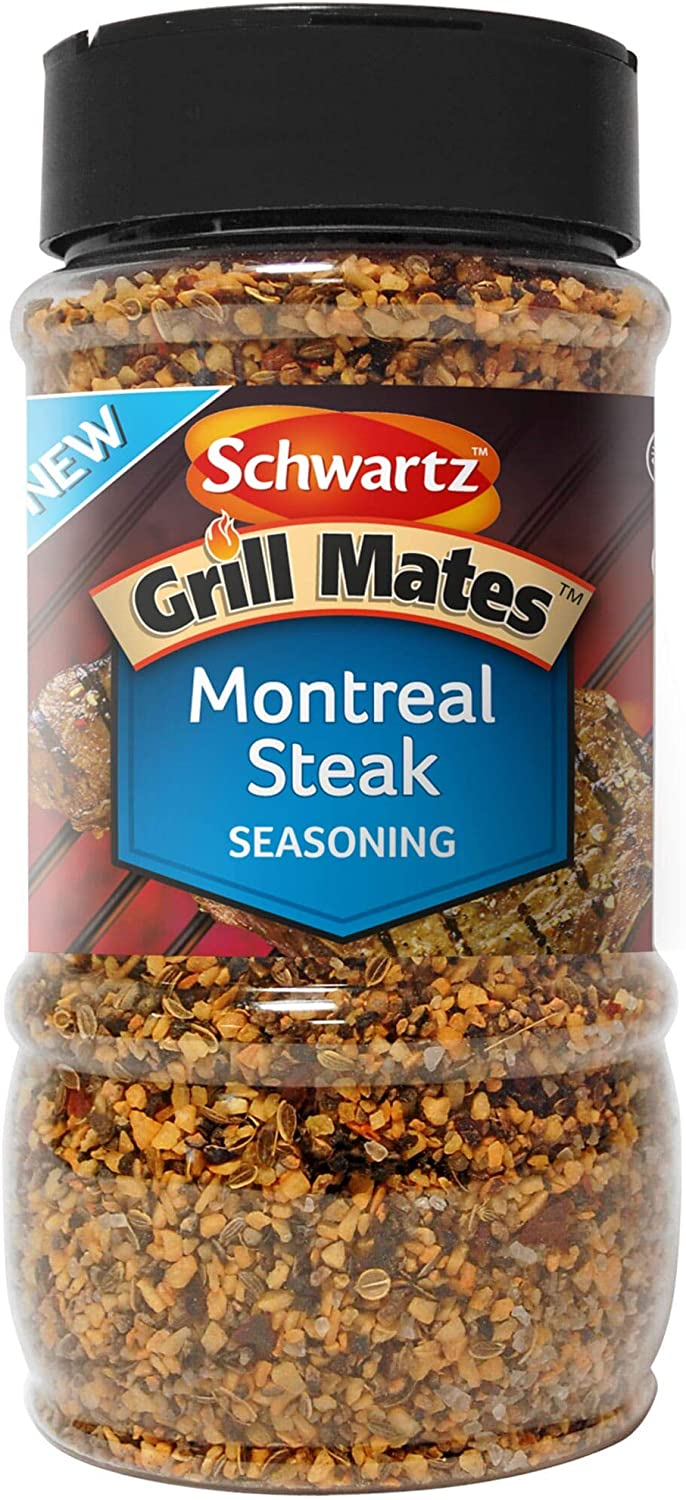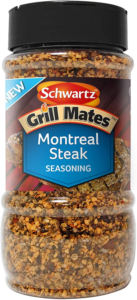 Store bought seasoning is great, but making yours at home makes it even better. You have complete control over the flavor, and it is a chance for you to ensure that you only consume fresh seasoning, with 0% oil, and zero sugar or artificial flavors.
When making seasoning, always remember to keep your ingredients coarsely ground. Dry and mince your onion and garlic, and maintain coarsely ground particles for your salt and black pepper.
The coarser your spices are, the more flavor and texture they add to your steak, burgers, and vegetables.
Don't let the other "steak seasoning" in Montreal Steak Seasoning fool you, choose seasoning that is completely vegan and gluten free.
In fact, it is whole30 approved, making it healthy and the perfect spice to always have in your kitchen for all your seasoning needs.
Ingredients
Coarse Kosher Salt
Coarse Ground Black Pepper
Minced Onion
Minced Garlic
Red Pepper Flakes
Recipe
Take a medium-sized bowl and pour in all your ingredients
Stir them together to mix
Your seasoning is ready. Pour it into a mason jar or any airtight container and store it in your pantry. It is safe to use for the next 6 months. You can still use it safely past 6 months, but you will likely notice that the ingredients have started losing their flavor.
McCormick Steak Seasoning
This steak seasoning is among the top steak spices in the United States. The seasoning, which is made from natural herbs and spices, goes well with steaks as well as burgers.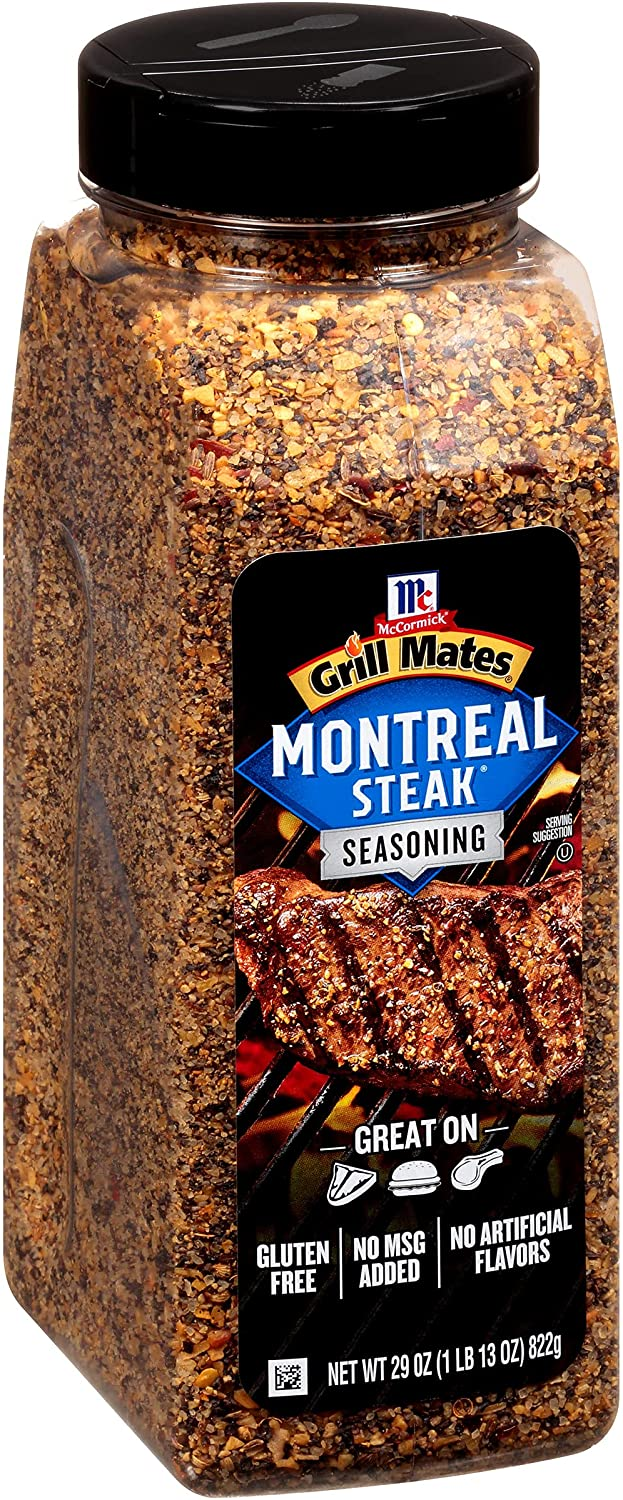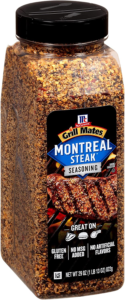 It is popular for its rich flavors and ability to bring out the best taste in steaks. McCormick steak seasoning is 100 percent natural and contains no preservatives, MSG, or artificial coloring. As such, people trust it even more because it is a healthy spice.
Adding McCormick steak seasoning to your steak while grilling is only one way to use this healthy, flavorful seasoning; it is great for spicing your burgers, meatballs, sandwiches, chicken, and even pork roast. The possibilities are endless, and once you start using it, you will never want to lack it in your pantry.
It has very rich and bold flavors, which come from mixing garlic, coarsely ground pepper, paprika, and salt. With only a tablespoon of the seasoning, you have enough spiciness for your steak, burgers, or pork.
How To Make Best Steak Seasoning At Home In 10 Mins?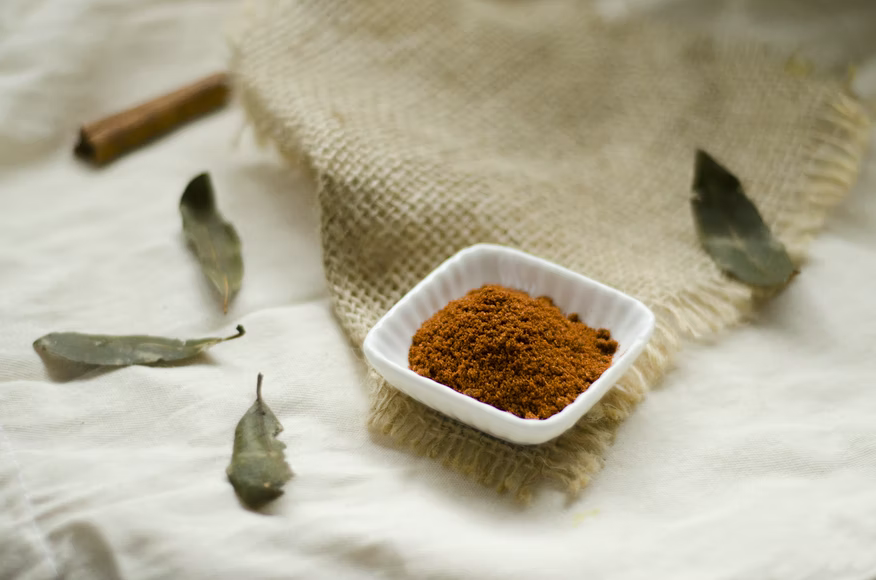 Seasonings are almost always very rich in flavor, which makes it quite difficult to rate the best. However, Homemade Montreal Steak Seasoning is especially popular for its versatility. It is always a perfect choice whether seasoning your steaks, chicken, veggies, burger, turkey, potatoes, pot rolls, meatloaf, cheeseburger egg rolls, or even pork
Ingredients
2 Tablespoons Kosher Salt
1 Tablespoon Smoked Paprika
2 Tablespoons Black Pepper
2 Tablespoons Garlic Powder
1 Tablespoon Onion Powder
2 Teaspoons Dried Rosemary
2 Teaspoons Dried Thyme
Instructions
In a small bowl, take all your ingredients, pour them in, and mix thoroughly
Sprinkle the powder evenly throughout your steak before grilling, roasting, or searing
Use an airtight glass container for remaining. It should be safe to use for a period of 6months.
Homemade Steak Seasoning
While store-bought seasonings are great and a great way to start off your meat seasoning journey, it cannot beat the flexibility offered by making your own steak seasoning at home. Home-made seasoning gives you total control over the richness of the flavors and allows you the flexibility to add in other spices that you may consider worthwhile.
Find below a bonus recipe to making a Zesty Montreal Steak Burger:
Ingredients
1 Lb. Lean Minced Beef
1 Tablespoon McCormick or Grill Mates or Montreal Steak Seasoning
1 Tablespoon French's or Classic Yellow Mustard
4 Slices of Cheddar Cheese
4 Rolls of Hamburger
1/2 Cup French's Original Crispy Fried Onions
Steps:
In a medium sized bowl, mix your minced beef, seasoning, and mustard until you attain a good consistency. Take the mixture and pat it down into 4 patties.
Grill your beef patties for about 5 minutes (each side) on medium heat until they are well cooked and completely cooked through. Set the internal temperature at 160ºF. Add slices of cheese to your burgers barely a minute before you finish the cooking process. Toast your rolls on the grill with the open-side down, and leave it for at least 30 seconds. It is ready once it turns golden brown.
It is time to add toppings. Crispy fried onions serve as a great topping to this particular recipe. Your burgers are ready. Serve as desired.
How To Season Steak?
Seasoning is more like preparing tea; there's no wrong way to do it. It all depends on personal preferences, the type of meat being grilled, and the amount of seasoning you enjoy to taste on your steak.
Thicker cuts (1.5-2 inches), for example, call for more seasoning to ensure that the spices run deep through the meat. You want each bite to carry as much flavor as the last, and to achieve that you must really be generous while applying your seasoning.
It is important to keep in mind that applying seasoning is much easier than taking it off. As such, you want to start with a small pinch, sprinkle it on your meat, and then press it onto your meat with your palm.
Doing this allows your seasoning to remain glued to your meat, which means that you won't lose a lot of it after placing your meat and turning it around the grill. It is advisable to avoid rubbing the seasoning into your steak as it clumps up easily. This is likely to cause uneven distribution of the spices, thus causing strong bites of pepper in some areas over others.
Best 5 Steak Seasoning Recipe
Steak Dry Rub
Cumin Steak Rub
Super Spicy Tomahawk Steak Rub
Steakhouse Rub