[Buyer's Guide] Best iPad for Drawing
This is the perfect guide for an artist searching for the best iPad for drawing. Check out Internet Highway's buyer's guide on the best iPad for an honest review.
Artists have become digital nowadays. Therefore, the old brush and canvas are less productive for them. Similarly, now they don't need a space to set their canvas, brushes, painting colors, etc., to start their drawings. An artist can create his imaginations on digital apps.
Moreover, you can make your paintings and color them with the best iPad for drawing. Isn't it the best option to bring out the hidden artist in you?
Well, we all leave it to you. But, if you want to know which is the latest iPad, get down for your answers.
Best iPads for Drawings
iPad Pro 2021
In 2021, if you want to use the exact iPad for your paintings, you must look for the iPad Pro 2021 and enjoy sketching. It is one of the most passionate tablets from Apple if you ignore the pricing.
As a painter, you need a big-screen display. Considering that, Apple has created the iPad with 12.9 inches. Besides that, other features make it valuable for artists, students, employees, and other people.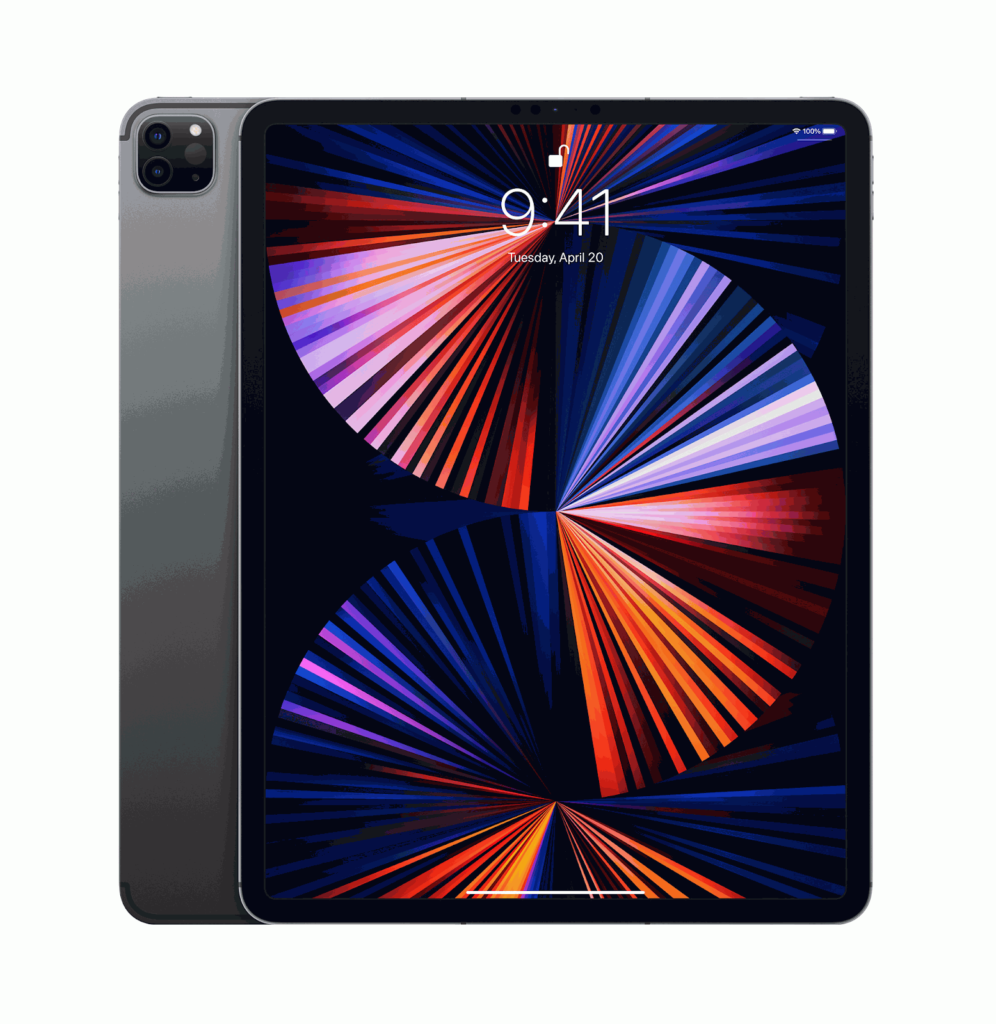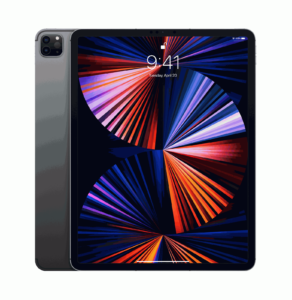 Features
It has a Liquid Retina XDR 12.9 inches Display.
The M1 Chip makes this tablet The Best iPad Tablet for Artists. It is similar to the chip employed in iMacs, MacBook Air, and MacBook Pro. It means you will get the 8-core CPU here on the iPad.
People will get the 8 GB RAM with 128/256/512 internal storage. Plus, 16 GB RAM for the 1, 2 TB variants. Therefore, you will become relaxed in the event of owning a bulky storage capacity.
Come up with a signature Face ID.
Digital sketchers can exploit the advantage of using the second-generation Apple Pencil to draw.
People will get a wide-angle camera of 12MP (f1.8), an ultra-wide camera of 10MP (f2.4), and a front-facing camera of 12MP (f2.4) for an ultra-wide camera.
The price range starts from $1,099, and you'll have to pay the additional charges of $130 for the Apple Pencil.
Pros
The display provides ProMotion to run the iPad up to 120 Hz.
It has the Super Powerful M1 Chip Processor.
You can purchase these because of the 8 GB & 16 GB RAM Variants.
It has a second-generation Apple Pencil.
Centre stage developed Cameras.
iPad can record a 4K quality video at 24, 25, 30, and 60 fps.
Big screen for the users.
The iPad Pro 12.9 is available in White, Silver, and Space Gray color.
The iPad possesses the 5G potential.
The best audio quality and long-lasting battery.
Cons
It might be an expensive gadget to use.
The size is too big for other users.
The M1 chip is only applicable and limited up to iPadOS.
It does not support more than one monitor.
iPad Air 4th Generation
You will be surprised to know that the 4th generation iPad Air has the best pricing and performance. The elegant 10.9-inch screen size makes it more trendy as well as attractive.
You can reasonably complete your drawings plus paintings. Also, you can enjoy editing, video making, etc., by using the second-generation Apple Pencil.
Artists who are bothered to draw with only first-generation pencils can try this for a new experience. You will get the best power together with the following features at a fair price for sure.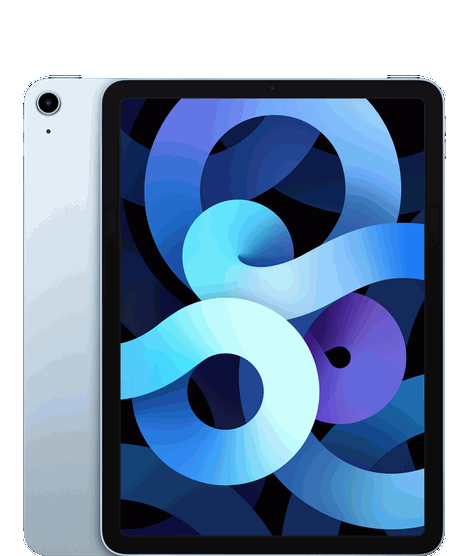 Features
The most beneficial feature of this iPad Air 4 is it has a 14 Bionic Chip Processor! It has a proper slice of energy with it. As a result, the iPad 4 operates quickly.
iPad Air comes up with a laminated display screen. As a result, it doesn't find a gap between the touch screen and LCD.
It does not have the 120 Hz ProMotion display like the iPad Pro. But, you can take advantage of having a true-tone display screen in it. Similarly, you will get the added benefit of adjusting the temperature to set out your room.
The iPad has a 12MP camera set on the backside, and a 7MP camera is on the front side for clicking your best moments.
People can unlock as well as access the iPad via touch ID.
The iPad Air has two ROM storage variants 64 GB and 256GB.
People can choose the iPad Air 4 for its pricing starts from $599.
Pros
You will see the best performance along with the price of the iPad Air 4.
As an artist, you will love the reasonably large screen size of the iPad.
Most artists love to draw with only pencils. Thus, you can paint your vision by using the second-generation pencil on this iPad.
You will get an excellent true-tone display for your comfort.
The iPad Air 4 is available in White, Silver, Space Gray, Rose Gold, Sky Blue, and Green.
It provides the facility of Wi-Fi and 10 hours battery life together with a stereo audio system for all the people.
Cons
The iPad Air 4 does not come with a ProMotion display.
You don't get the feature of the face ID unlocking system.
It does not design for multi-core applications.
6th Generation iPad Mini [2021]
It is accessible, and the most portable iPad that comes under the range is the iPad Mini 6th 2021. It starts from 64GB and stops at 256GB when it comes to variants.
Therefore, this storage type is an adequate space to store your paintings, documents, images, videos, and much more.
The flat edges and small bezels keep it different from others.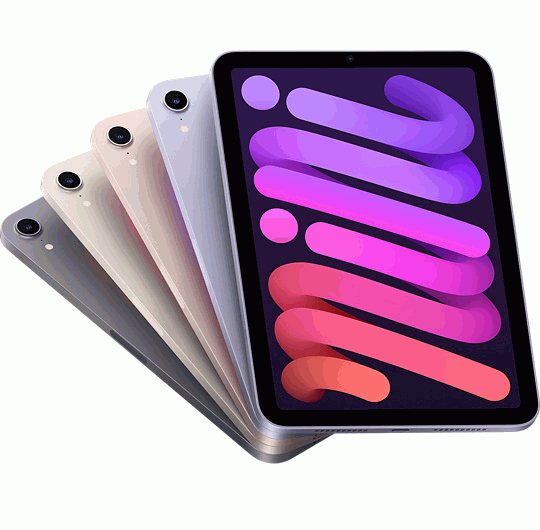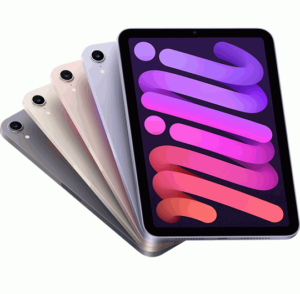 Features
People will enjoy the better cameras in iPad mini 6th generation 2021.
You can enjoy the camera quality of 12MP for the back with f1.8 aperture and the front f2.4 aperture ultra-wide-angle. Also, it can shoot 4K videos for you.
iPad mini has an 8.3 inches Liquid Retina display for drawing, painting, gaming, watching videos, etc.
The iPad mini 6 has the touch ID for security.
Surprisingly we can use the Apple Pencil on the iPad mini 6th generation.
People can use the center stage video calling as comfort in this iPad.
It provides the facility to enjoy the 5G network to do your work quickly.
A 15 bionic chip is the attraction point that gives you the best performance in your working environment.
Purchasing price has started from $499, which is another advantage for the individuals.
Space gray, purple, pink, and starlight are the most desirable colors you will see on the iPad.
Pros
The display has created different goodwill for iPad mini 6 2021 through using the Liquid Retina Display. It is entirely of service to draw, paint, game, and many other things.
iPad mini comes for $499, but it is available for up to 256 GB variants.
You get intense cameras of 12MP on front and rear to capture the actual paintings, drawings, and pictures.
It becomes more promising for the artist by supporting Apple Pencil to continue their work.
It is the pre-eminent choice for a new artist to start their paint accurately.
Cons
It becomes expensive if we compare the emphasis of the previous iPad mini.
iPad mini 6 only starts from the 64Gb, which is quite a disadvantage for the users.
It does not support a magic keyboard and does not have a headphone jack.
Lack of Apple's Face ID.
iPad 9th Generation
People can opt for this iPad for experiencing the powerful "A 13 Bionic Chip Processor."
It is one of the power sources to draw, paint, sketch, read, write, play videos, games, and much more. The productive part is that it starts from the 64 GB variants to 256 GB for storage potential.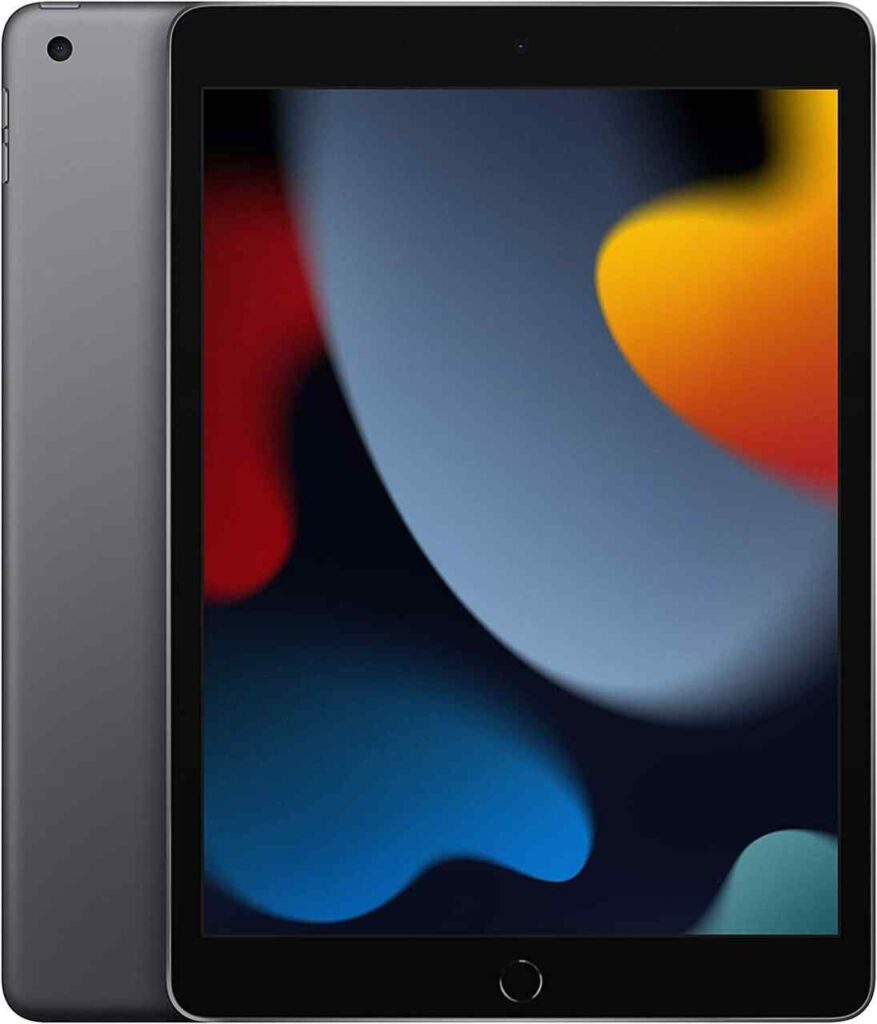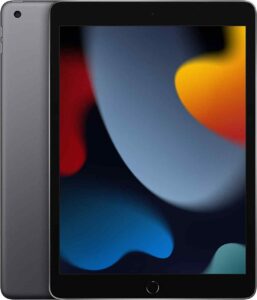 Features
An ideal Retina 10.2 inches LCD display.
You can find the detailed graphics and text system on the iPad.
Apple Pencil supports the Best Sketching Apps from the Apple App Store.
The 8MP camera is provided to capture your winnings and victories with f2.4 aperture. Plus, a front selfie camera of 12MP with an f2.4 aperture.
Today many people use fingerprint locking systems. Therefore, it gives you the feature of using your fingerprint to unlock your iPad.
Silver, Space Gray colors are available in the variants.
The pricing is starting from $329 onwards.
Pros
First-generation Apple Pencil support is available for your drawing experience.
It is the best iPad in value for money as it has up to 256 GB storage capacity.
Unbreakable performance.
The pricing is reasonable if we look at the features.
Cons
When you compare this 9th generation iPad with other models, you will see that the A 13 Bionic chip is outdated.
It supports only the first-generation apple pencil.
So, after considering the above iPads, do you want to know which are the Best Drawing Apps for iPad to use? If yes, please go with the below-sketching apps to use your Apple Pencils more efficiently.
#3 Best Drawing Apps for iPad
#1. Adobe Fresco
If you love to make digital paintings, this app will help you in various ways. You will get the bitmaps and vector graphics editing factor.
Adobe Fresco is designed by Adobe, firstly, for the use of digital drawings. But, it is beneficial for the Apple iPads with pencil supports.
Besides that, you should experience the world's best brush collections, such as Mixer Brushes, Pixel Bushes, Ribbon Brushes, Live Brushes, and more.
Therefore, Adobe Fresco is available at its best price of $9.99.

Pros
30 days free trial.
The best raster and vector brushes are available.
The efficient stroke sensitivity.
The basic app is free for users.
Cons
Lack of paper and canvas options.
The free version allows you the storage of only 2GB.
#2. Affinity Designer
Affinity Designer is beneficial for those artists who want to work with vector graphics.
People can enjoy the flare-up performance by using this app for drawing on iPads.
Also, now you can paint your dream by using the Apple Pencils as it gives you incredible accuracy and freedom of moving hands to create your imagination.
In addition to this, the price is $24.21 for iPad users. However, it differs for iMac to Windows users.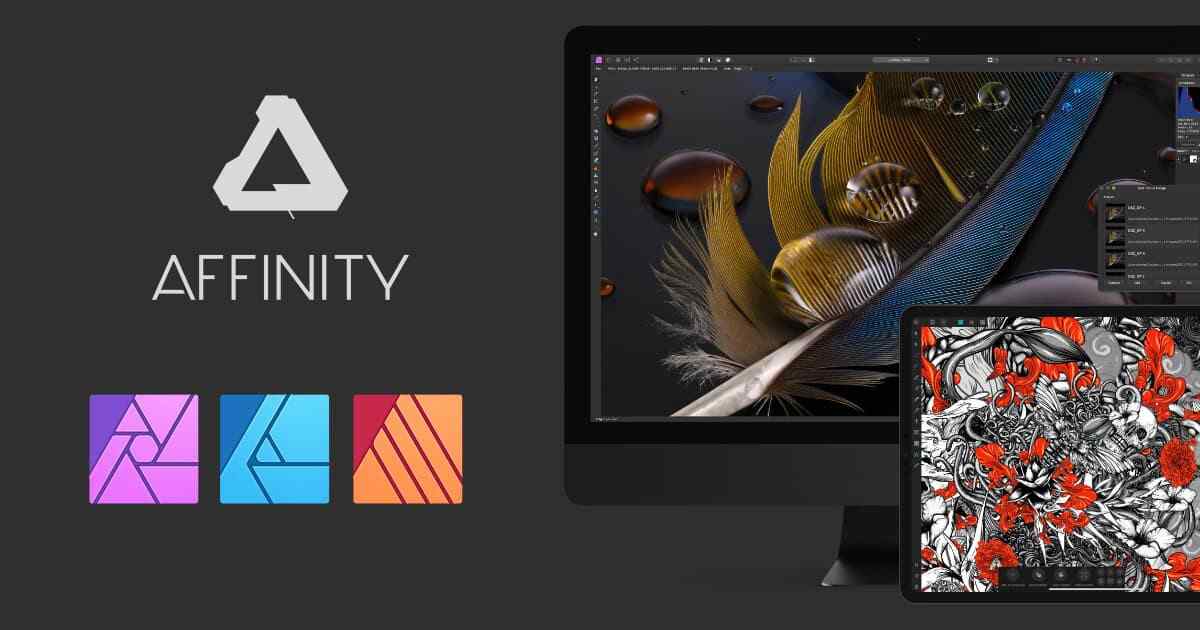 Pros
Easy to use the system.
Decent price range.
Cons
Auto trace is not available.
The layer's capabilities are confusing.
#3. Pixelmator
Pixelmator is filled with full features and a layers-form image editor for the trendy iPads. Many will argue, this is the editing app! But the truth is, you can do your sketching and paintings on this app.
You can see more than 100 brush options for your smooth drawings, created by professional artists. Therefore, the use of PixelBrush is also an amusing thing to do.
You will exploit the advantage of the supporting layers, eyedropper color picker, and utilization of Apple Pencil. The app rate starts from $39.99 as a flat price.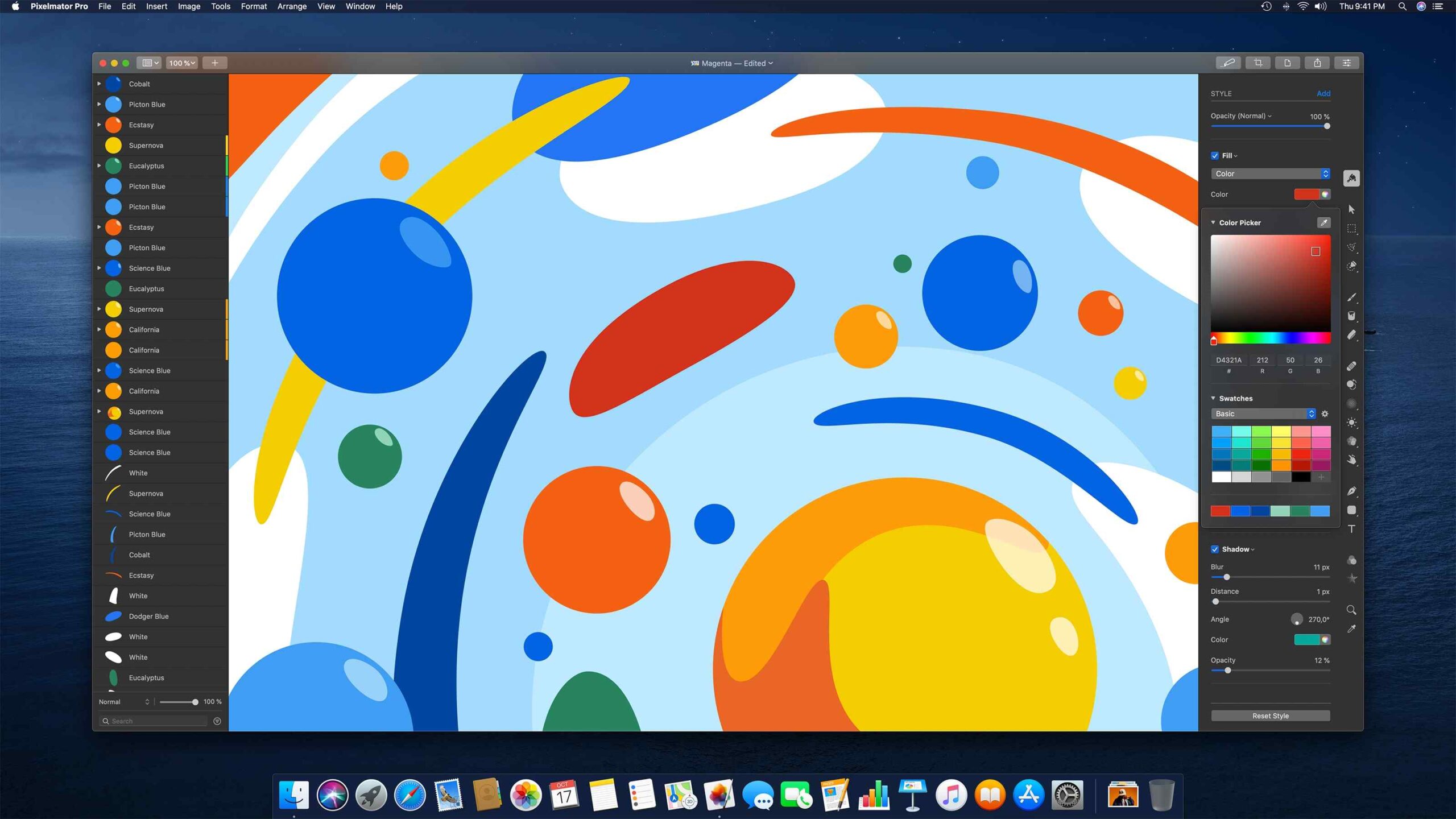 Pros
Topline features.
Best image resolution.
Uses are effortless.
Cons
A few features are hard to use.
We can't import the vector files.
Conclusion
Today, because all artists are working digitally. Therefore, when mobile size becomes less productive, we pick best tablets for artists. Plus, if you are, getting an iPad featuring all the latest updates, along with Apple Pencil and best drawing apps, is not less than enough. Also, by using these factors, people can create their actual drawings.
Therefore, we have the Best iPad for Drawing and Best Drawing Apps for iPad to bring out the passion in you. The elegant features with all the pros & cons are involved in this blog. So, working individuals, university students, and artists can consider this article.